Knoxville Game Design invites you to attend the online meeting and show recording for Sunday May 12, 2019 at 2pm Eastern Time.
This month we will show off and discuss the games created by Knoxville developers for Spring '19. Let us know if we missed yours and we will add it to the list.
An army of pre-human dwarves must survive an oncoming of fallen dwarves, dwarves revived by a vengeful Necromancer. You must build up your defenses and survive both his scouter fallen, and the villain himself. Build defenses , mine minerals, and survive against packs of vengeful cadavers.
Vanquish the demons to become the one true Yen Master! Collect yen to buy powerups, but be careful because the game is over once your yen goes down to zero. Enemy demons and their projectiles will drain your yen.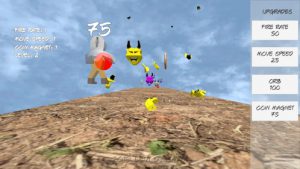 Time lapse Videos
Any game development questions are welcome. We will have "show and tell" time for any other game projects.
Join us using Google Hangouts at the following URL: https://hangouts.google.com/call/ni63jloemrd7xdto37z5mayk4uu
Video for last month's meeting (Music for Game Developers) – https://www.youtube.com/watch?v=cTtiV9dxD88
Subscribe to the audio podcast
Follow Knoxville Game Design on social media for the latest updates: https://twitter.com/KnoxGameDesign
Please direct any questions to levidsmith@knoxgamedesign.org